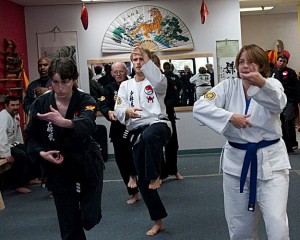 Enseñamos muchos estilos internos y externos para desarrollar el cuerpo y la mente. Por ejemplo:
La Forma de 5 Animales- 5 Animal Form
Tigre/Grullo Forma- Tiger Crane Form
Tai Chi Chuan- Grand Ultimate Fist
Chi Kung- Qigong Meditation
Pa Kua Chang- Bagua- 8 Changes of the Palm
Puño del Norte- Northern Fist
Mono- Monkey
Mantis- Praying Mantis
8 Inmortals Borrachos- 8 Drunken Immortals
Puño del Sur- Southern Fist
Monje de Hierro- Iron Monk Training
Tigre Negro de Shantung- Shantung Black Tiger
Grulla Blanca- White Crane
Talon del Ágila- Eagle Claw
Leopard del Oro- Golden Leopard
Puño de la montaña Hua- Hua Mountain Fist
y muchas mas…
Practicamos con los 18 armas clásicas:
Tao- Espada curvado, solo y doble- Single & Double Broadswords
Garfios cabeza de tigre- Double Tiger Hook Swords
Latigo en cadena- Chain Whip
Cuchillos de fung fu, solo y doble- Single & Double Daggers
Bastón modular 3 partes- 3 Sectional Staff
Lanza- Spear
Espada de 7 Estrellas- Seven Star Sword
Abinacos de Tai chi- Tai Chi Fan
y muchas mas…
¡2 Semanas Gratis sin compromiso! ¡Venga a probar! ¡Precios muy económicos!
Telefono: (+34) 930 087 102 
Whatsapp: (+34) 654 305 661
_________________
Haz clic para: