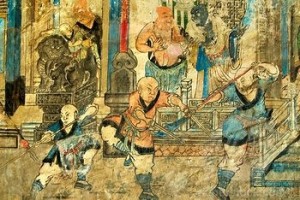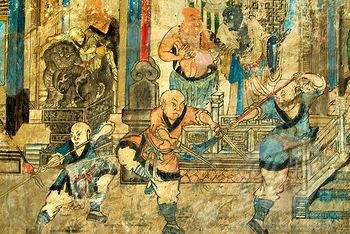 Shao-lin Kung Fu has 1500 years of rich history that begins in remote Buddhist monastery in Honan province, near the city of Chengchou, China, called Shao-lin Ssu, or Young Forest Temple. In the 6th century A.D. a traveling monk named Ta Mo (Bodhidharma) brought a form of meditation known as Ch'an Buddhism (Zen) to the Shao-lin temple, but found the monks there to be weak and in poor health, so he taught them a series of rigorous exercises (the 49 postures of the I Chin Ching) which are still taught to our students to this day.
From this initial training and their newfound fitness the monks began to develop martial arts for self defense against bandits that would periodically raid the temple. The original Shao-lin fighting art, Lohan Shou (Hand of the Lohan), which is still taught to students today, later developed into diverse styles. The monks found that by studying the strength, flexibility, prowess, and other mysterious qualities of animals, they were able to develop unique fighting skills. The original 5 animal styles of Crane, Tiger, Leopard, Dragon, and Snake  blossomed into a myriad of other unique animals styles and even insect styles, such as Preying Mantis and even Golden Cockroaches, as well as advanced styles like Drunken Immortals and the most popular martial art practiced all over the world, Tai Chi Chuan. Weapons training were also incorporated into the art from traditional weapons such as swords and spears to adapted farming tools and even a fighting fan!
In the 7th century Shao-lin monks gained a new notoriety when they were called upon to help rescue a prince from the T'ang Dynasty. They succeeded where the T'ang emperor's army had failed, and were thenceforth regarded as heroes. Later, they were ordered to train an army of warrior-monks and therefore the Shao-lin temple became a huge center of training and fighting, and continues to spread throughout the world under the direction of the Shao-lin Masters. Now in Barcelona, Spain, students undergo training as they have for centuries with one goal in mind; kung fu: "mastery through time and effort".
¡2 Semanas Gratis sin compromiso! ¡Venga a probar! ¡Precios muy económicos!
Telefono: (+34) 930 087 102 
Whatsapp: (+34) 654 305 661