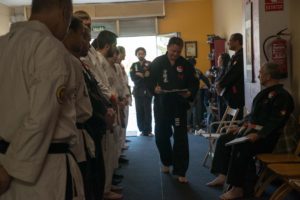 Demian Lord, el Instructor principal (Sifu), adquirió su Cuarto Dan de Cinturón Negro ante el Octavo Dan Elder Maestro David Soard y un panel de maestros en 2016. Ha practicado Shao-Lin Kung Fu bajo las órdenes directas de los Maestros David Soard y Sharon Soard desde 1998. Sifu Demian ha nacido en Ontario, Canadá, y ha vivido toda su vida en los Estados Unidos hasta que se trasladó a Barcelona en 2010, ciudad en la que ahora vive.
Head Instructor (Sifu) Demian Lord was awarded 4th degree black belt by 8th Degree Elder Master David Soard and a panel of masters in 2016. He has been practicing Shao-Lin Kung Fu under the direct guidance of Elder Masters David & Sharon Soard since 1998. Sifu Demian was born in Ontario, Canada, and lived his life in the United States until moving to Barcelona in 2010, where he lives.
¡2 Semanas Gratis sin compromiso! ¡Venga a probar! ¡Precios muy económicos!
Telefono: (+34) 930 087 102 
Whatsapp: (+34) 654 305 661
_________________
Haz clic para: